Be the .Buzz all over!
Don't just start a rumor! Fire up the crowd with .buzz domain names!
Start buzzing around for $40.00/yr
What kind of buzz do you want to search for?
What is the best way to start a .BUZZ
What is .buzz?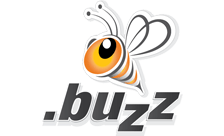 Whether you're a blogger, journalist, advertising manager or product marketer, .buzz is the place online to build excitement for your brand, product, service or startup. It's also a fun web address for sites dedicated to memes, entertainment news or gossip.
Your perfect domain name is waiting.
With hundreds of new domain extensions coming to the web, finding an address that fits your business is easier than ever. Attract a following with cheap .buzz. domain names and a bee-u-tiful website!